Remote Adventures Wales ( 'RAW') offers luxurious accommodation from a hill-top barn in the Brecon Beacons of South Wales.
Dukes Barn is a contemporary 15th century barn in a spectacular rural setting in the Welsh hills. It is the perfect location to relax and enjoy a wide range of adventure activities, and only two and a half hours drive from London.
We offer first class accommodation for up to 8 people and assist and advise on local activities with a focus on mountain biking, road biking, rock climbing and hill walking.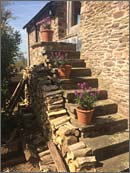 Guests also have exclusive use of Dukes Barn's amenities , which comprise an indoor climbing wall, counter current swimming pool, sauna, steam room and it's own 2km mountain bike circuit!
We take bookings for a minimum of 2 nights, and with a little pre-planning with yourselves, we can suggest an activity programme tailored to your needs.
We are happy to advise and assist in planning your activities and we can arrange formal rock climbing instruction for novice and intermediate rock climbers by arrangement.
Guests can also explore the private, 12 acres of woodland and meadows and hope to spot the prolific wildlife including hares, pheasants, foxes and owls. Alternatively you can relax inside with full use of the spa facilities, loungers and log fire, or browse through the library for a good book.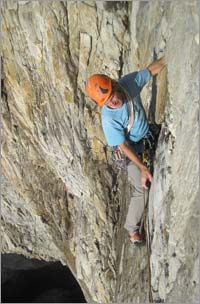 Our aim is to provide a relaxing, luxurious, rural retreat - an ideal base for you to pursue your chosen outdoor adventure activities - a similar ethos to our sailing venture!
We provide breakfast as standard, and packed lunches on request. In the evenings local restaurants and gastro pubs offer a wide range of dining or you can stay at the Barn for some hearty, home cooking or BBQs!
To book or make an enquiry, please call or text us on +44 (0) 7775 995161 or e mail info@remoteadventures.co.uk
Dukes Barn

Dukes barn offers comfortable spacious accommodation in splendid isolation in 12 acres of grounds ... more

Mountain Biking

World class mountain biking is nearby - cross-country, enduro and downhill. We even have a 2km trail through the woods on our grounds... more

Road Cycling

Abergavenny, our local town is the home of Welsh road cycling and a favoured road cycling venue - there are also numerous routes from the barn, short circuits and 100 mile type 'sportifs'... more

Rock Climbing

South Wales is now a mecca for rock climbing. There are 10 cliffs within a 45 minute drive giving you access to top sport and trad climbing venues... more

Hill Walking

The Brecon Beacons and Black mountains offer a lifetime of walks, scrambles and peak bashing. Whilst closer to home the local peak Skirrid (holy mountain) can be climbed directly from the Barn in several hours... more

Trail Running

There are plenty of trail and mountain running routes throughout the Brecon Beacons and Black Mountain national park. Also a fine trail run from Dukes barn to the summit of Skirrid mountain and back... more

Spa

Dukes barn's facilities include a spa comprising an endless pool counter current heated swimming pool , sauna, steam room and shower facilities. They are housed in a converted cowshed annexed to the main barn and includes a sun terrace with loungers. Or just enjoy our extensive grounds, the meadow and woodlands in a remote location ... more

Places of Interest

There are lots of interesting places to visit in the area including the Breacon Beacons national park, the black mountains, the forest of Dean, Abergavenny, Crickhowell, Usk. ... more

Other Sports & Activities

There are a large number of other sports and activites to enjoy in the area... more

Restaurants/Pubs & Food

No shortage of great places to eat including superb pubs... more

RAW Prices and Bookings

£125 per person a night (minimum 2 nights). For 2 people sharing a room £199 a night. Prices include breakfast and all facilities (spa, pool, steam room, climbing wall, mountain bike track).
Prices Bookings