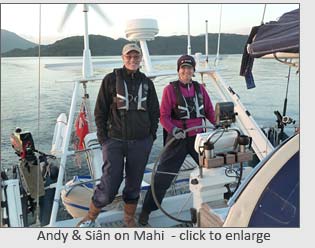 Remote Adventures is a skippered sailing holiday venture. We offer tailor made programmes for novice and experienced sailors on Mahi, a 12 meter sailing yacht, which is a well-equipped, MCA coded, Ovni 365 built in 2007. Please click HERE to visit our Facebook page

We have adventuring as our ethos, with a love of exploring remote areas with like-minded guests. For 2020 we will be in Arctic Norway for our third year, skiing and sailing in the Lyngen alps and Finnmark in April and with plans to sail in Russia or the Norwegian Fjords from June.
Our ski / sail adventures are for experienced ski tourers with good navigational and avalanche awareness skills and previous comparable unguided touring expertise as these are 'unguided tours'.
Remote Adventures is run by Andy Collins and Siân Hills. Both have over 30 years sailing experience, 15,000 + sea miles and hold RYA Yachtmaster Offshore qualifications. Andy is an experienced mountaineer and has participated in sailing expeditions as far south as the Antarctic whilst Sian enjoys warmer waters and taught Andy to sail from her home in Plymouth!
View video enlarged and view more Videos
Over the last five years we have had many adventures- sailing in Arctic Norway, the Baltic sea, Scottish Hebrides and a circumnavigation of the British Isles. Superb feedback from our guests suggests we have found the right formula- a maximum of 3 guests at any time, fresh healthy food, time for exploration ashore and hands on sailing.
We also offer luxurious accommodation from a remote hill-top barn in the Brecon Beacons of South Wales. The ideal base for outdoor activities. Click HERE for information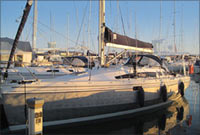 Our 2020 planned route is posted on the
Destinations page

With a summary on the Schedule and Prices page